FanJam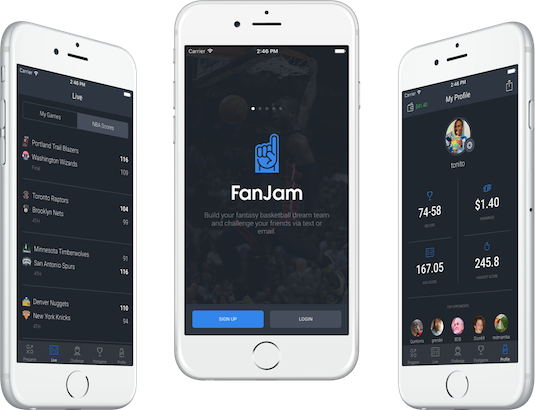 FanJam is a mobile basketball fantasy game for friends. You can play your buddies for free or cash, and easily send challenges through text or email. FanJam is different from traditional fantasy because you get to build a new lineup every night.
During my initial consultation with the team at FanJam we discussed a rough timeline and the requirements to start working on the iPhone application. Following this I sent over a proposal which included all the details on the development process, estimate on cost, timeline for release and design requirements for the application.
The team sent over the specifications for their API and also sent the final designs for the app. I worked with their design team to create a process to export the designs artifacts to use in the application.
This application was developed using an agile approach where I would plan tasks for each week in advance. At the end of the week I would send out a build, we also had weekly standups where we discussed the progress for the week.
Take a look at the final product here.

Toni Gemayel
CEO, FanJam
Ali is one of the most skillful developers I have ever had the pleasure of working with. He was an excellent communicator, fit in seamlessly with the rest of our team, and adapted to our changing API on the fly. We value design & UX highly - and the final product of Ali's work was a beautiful, well tested and polished iPhone app. I would recommend Ali to anyone and would jump at the opportunity to work with him again.

TJ Weigel
CDO, FanJam
Ali was a pleasure to work with. He was always on top of his tasks and was great at providing advice when working through bugs or tough design decisions. I would absolutely recommend and work with him again.