BigBaby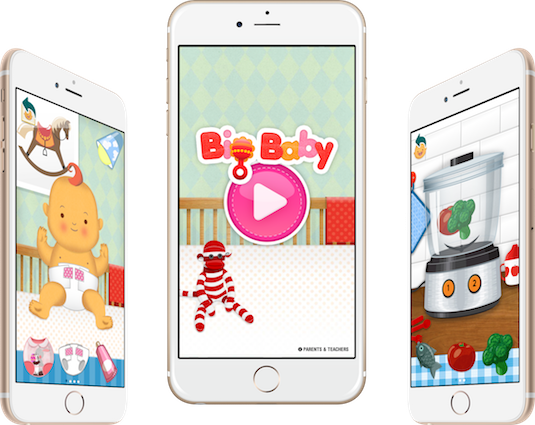 Big Ice Cream is a digital studio that produces apps for pre-school and early primary school children on touch devices.
The app gives children aged three to six a baby of their own to comfort, feed, dress and care for.
As children interact with the baby, discoverable features are revealed that reward their curiosity. The baby responds happily to actions like having its feet or hair touched, and cries if its bottle is taken away too soon. With its nurturing themes of feeding, clothing and comforting a small baby, Big Baby is also one of the few apps to help build emotional intelligence.
The folks at Big Ice Cream got in touch with me with an early design. After reviewing the design and understanding the animations required to bring the character to life, I realized that for the designers to visually communicate the animations to me would be complicated using traditional tools. Hence, I suggested to use a skeletal animation system to represent the character as well as the animations that it would have. Using a tool called Spine I created a process by which the client could could export the animations directly to a file format that can be read by the game engine. I also worked on creating a module to understand the exported animations, this module was incorporated in the game engine I used i.e. cocos2d-iPhone.
The entire project took about three months to complete. During the length of the project we held daily standups. I also sent out weekly builds and committed all the code to github on a daily basis.
If you're interested to try the application here is a link to it on the Appstore.

Caroline Kinny-Lewis
Executive Producer, Big Ice Cream Pty Ltd.
Ali delivered all our requirements plus more. Whilst developing our app, he was diligent and extremely helpful when it came to problem solving. He always went the extra mile to ensure each milestone was delivered on time and with a high degree of quality. Ali is a true professional.